Casper Bengue, AKA Fako Mustacho, is the main Antagonist in Fake Mustache. He is a Seventh-Grade boy who dons a Mysterious Mustache, and attempts to take over the world!!!
"Fako" brainwashes everybody in the town, and uses them for his global conquest; but his ex-friend Lenny will try to stop him.
Fako Mustacho is said to have "disappeared" after the events of the assasionation attempt by the European Assassin.
In the end of the book, he is seen with a bag, and when Lenny asks him what it is, he answers with " You'll see".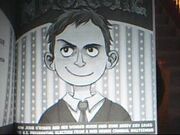 Ad blocker interference detected!
Wikia is a free-to-use site that makes money from advertising. We have a modified experience for viewers using ad blockers

Wikia is not accessible if you've made further modifications. Remove the custom ad blocker rule(s) and the page will load as expected.