Soymilk is the actor/stunt-horse/real life pet of Jodie O'Rodeo. She loves her, and she loves her back.
What good friends! But not much else is known about Soymilk, other than that she loves Jodie so much, she actually finds her after her and Lenny were trapped in the Novelty company's buildings.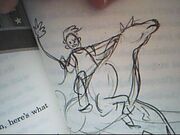 Ad blocker interference detected!
Wikia is a free-to-use site that makes money from advertising. We have a modified experience for viewers using ad blockers

Wikia is not accessible if you've made further modifications. Remove the custom ad blocker rule(s) and the page will load as expected.